Brought to you by the Drug Free Coalition of Hall County
Parents can make a difference.
Teens face difficult challenges when resisting the use of alcohol and other drugs. Together, parents and communities can prevent drug use among youth.
The following are some basic components of a pledge that you can make to help keep your teen drug free.
1. Actively chaperone all underage parties in your home.
2. Do not serve or allow alcoholic beverages to be served (or even be on the premises) at underage parties or activities at your home.
3. Make sure your home is drug free.
4. Do not permit any teenager in your presence who appears to be intoxicated to drive; alert his/her parents of his/her condition.
5. Call parents.  Know your teen's friends' parents and encourage them to call you.  Network with them.
Other basics:
• Know where your teen is going.
• Know who's with your teen.
• Know what your teen is doing.
• Know when your teen will be home; be awake when your teen arrives.
• Know what the consequences will be if the rules are broken.  Make a list or a contract with expectations spelled out.  Post them in a prominent place, such as the refrigerator door. Make these rules before problems start and make  sure your teen is involved in the process.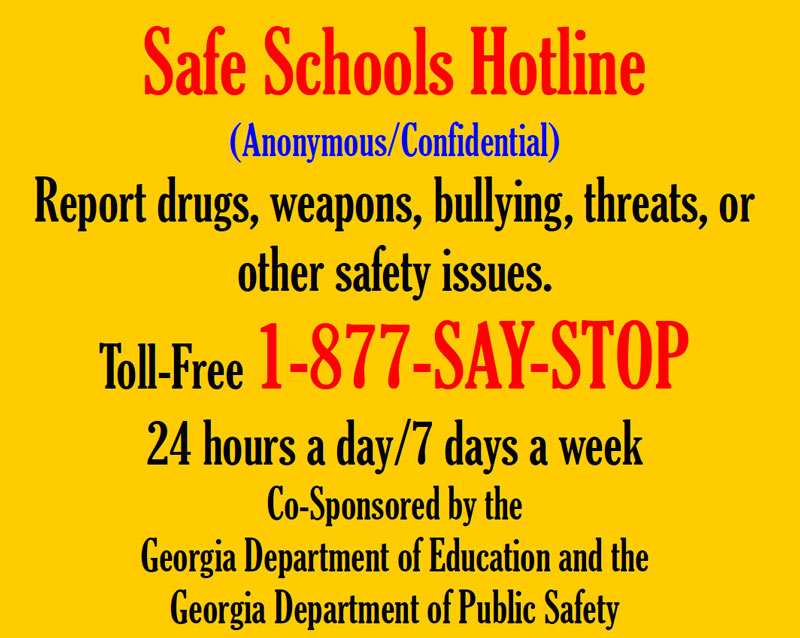 Safe Schools Hotline
(Anonymous/Confidential)
Toll-Free 1-877-729-7867